Venue
Chemistry Lecture Theatre Chem LT 2
Cantock's Close, Bristol, BS8 1TS
Bristol, England, GB, BS8 1TS
An opportunity to learn about much-needed drug harm reduction strategies in the city, plus new psychedelic research at a Bristol clinic.
This event is a proud collaboration between Drug Science and the University of Bristol's PsyPharm Society. Open to members of the public and students of any university.
Free tickets for everyone to attend, including Drug Science Community Members (donating monthly) – to join the Drug Science Community, click here.
The evening will consist of a series of talks followed by a Q&A with our experts.
Speakers:
Dr Hannah Thurgur, Senior Research Officer
Dr Hannah Thurgur completed a Neuroscience PhD at the University of Manchester, which investigated the role of inflammation and the extracellular matrix in repair after stroke. After her PhD, Hannah was an Executive Officer at the British Neuroscience Association, where she helped promote neuroscience research and represent neuroscientists across the UK. During her PhD, she became involved with drug policy reform advocacy. Hannah now applies her research skills within the areas of medical cannabis and medical psychedelics. She is the study coordinator for the Long COVID clinical trial, oversees the Medical Psychedelics Working Group and works alongside organisational partners to assist with research priorities. She is passionate about harm reduction and improved drug education for young people.
Dr Ben Sessa, Awakn Clinics
Ben has specialist training as a child and adolescent psychiatrist and is interested in the developmental trajectory from child maltreatment to adult mental health disorders, including adult addictions. Dr Sessa's joint interests in psychotherapy, pharmacology and trauma have led him towards researching the subject of drug-assisted psychotherapy using psychedelic adjuncts. In the last 15 years he has been part of scientific and clinical studies administering LSD, psilocybin, ketamine, MDMA and DMT to patients and volunteers. He is the author of psychedelic medical exploration books; The Psychedelic Renaissance (2012 and 2017) and To Fathom Hell or Soar Angelic (2015). He has recently completed research with Imperial College London exploring the world's first MDMA-assisted therapy trial for the treatment of Alcohol Dependence Syndrome. Alongside Prof. David Nutt, Ben has also been a long term advocate of drug policy reform in the UK; believing that current laws hamper research and increase, rather than reduce, the burden of problematic drug use on individuals and society.
Dr Laurie Higbed, Awakn Clinics
Laurie is an experienced clinical psychologist. Laurie has worked as a lead therapist on clinical trials using MDMA and psilocybin-assisted psychotherapy and has a special interest in working with complex trauma, addictions and the use of psychedelic therapy to treat a range of mental health difficulties. Laurie is registered with the Health and Care Professions Council (HCPC) and is a member of the Association of Clinical Psychologists (ACPUK).
Sorcha Ryan, Bristol Drugs Project
Sorcha is the Festival and Nightclub Harm Reduction Lead at Bristol Drugs Project (BDP). Sorcha coordinates The Drop, BDP's service specialising in delivering harm reduction interventions within the night-time economy and universities. Over the past three years, Sorcha has been working with the University of Bristol and Bristol SU to improve how the university responds to drug use by its students, including designing and delivering a scheme where students can access free reagent testing kits and harm reduction advice. Outside of BDP, Sorcha volunteers with The Loop, has previously interned with Transform Drug Policy Foundation and holds MSc in Policy Research from the University of Bristol.
-———————–
More info on Awakn Clinics: Awakn is a biotechnology company developing a better solution to treat addiction: psychedelic therapeutics – drugs and therapies used in combination. More info here.
More info on Britol Drugs Project: Bristol Drugs Project (BDP) is a charity providing harm reduction and treatment services for people who are experiencing a negative relationship with drugs and/or alcohol. With 36 years of experience, our goal is to support people towards the changes they want to see in their lives no matter what they may be. More info here.
-———————–
Location & Transport:
School of Chemistry, Cantock's Close, Bristol, BS8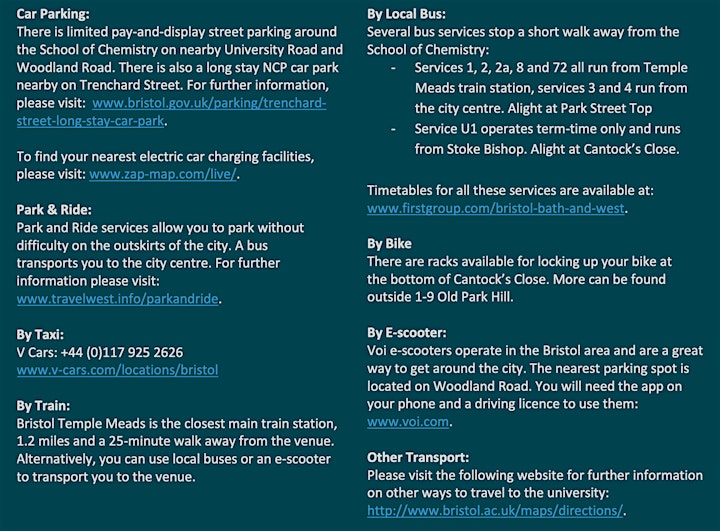 Important note:
We will sometimes communicate to you about other Drug Science events or content that we think you would be interested in. By registering for this event you consent to this. If you do not want to be contacted by us, you can change your settings in Eventbrite to not share email addresses with organisers. You can unsubscribe at any time.